#SCNOMERCY $15.95 Buy It
Front: The EXPECT NO MERCY is printed in a Rattlesnake texture. Two striking Rattlers surround Austin.
Back: "100% PURE RATTLESNAKE" also printed in a Rattlesnake texture.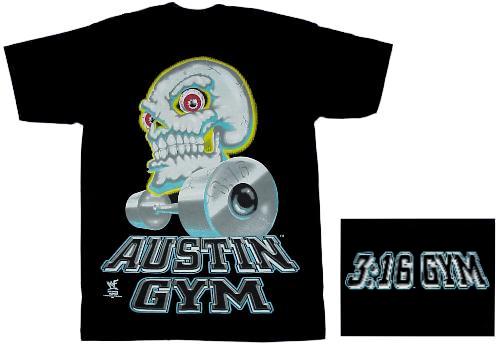 #SCGYM $15.95 Buy It
Front: A big skull surrounded by yellow and blue with a huge barbell beneath. Below that: AUSTIN GYM.
Back: "3:16 GYM" printed in blue and silver.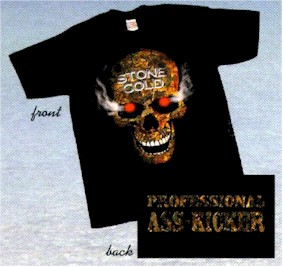 #SCCAMOKICKER $15.95 Buy It
Front: Huge Camo Skull with red eyes and "STONE COLD" on its forehead.
Back: Camo "Professional Ass Kicker"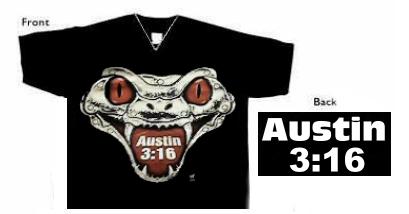 #SCFBJRSY $29.95 Buy It
The front is a huge Rattler with such awesome print detail that it looks like a chrome robotic snake. A huge AUSTIN 3:16 is printed across the back.
Available is sizes: M - L - XL - XXL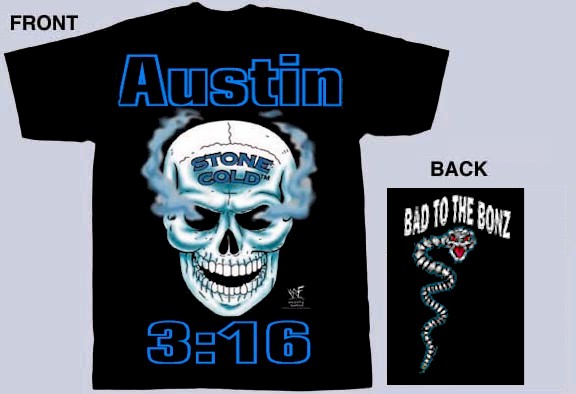 #SCBONZ $15.95 Buy It
WOW! This Shirt is simple awesome. Combining a classic tee, but enhanced the coloring (the smoking skull looks almost air brushed) & one of the best new shirt. The skull & words cover almost the entire front of the shirt. The snake on the back is huge 2 ft. plus! Big Pic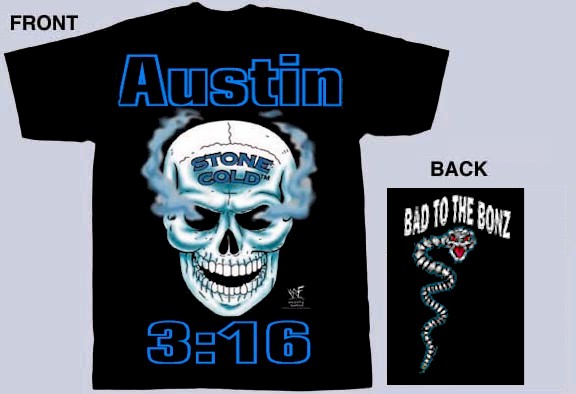 #YOUTHBONZ $14.95 Buy It
This awesome t-shirt is now available in kids sizes!